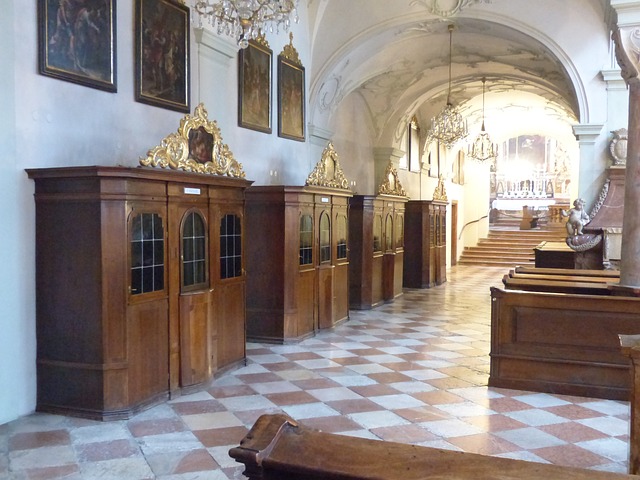 The Soulful Catholic was feeling especially beloved by God on Oct. 1, the feast of St. Therese of Lisieux. Ever since reading the children's version of the saint's biography at the tender age of 8, there was a kinship with this Doctor of the Church, a French Catholic nun who was unknown to the world until after her death at age 24.
This year's feast seemed extra-special as it became apparent that by the mystery of God's grace, prayers were being answered one after another. God's tender mercies were a palpable presence and consolations abounded. "It's going to be a great weekend!" I thought to myself. In spite of myriad challenges, there was deep joy in my heart.
That was not always the case. The joy was something discovered through the sacrament of confession.
When sins have been confessed with a firm commitment to not fall into that sin again — once the words of absolution have been spoken and penance has been done — those sins are GONE, drowned in the ocean of His mercy. We are free and in that freedom there is joy.
There is perhaps no greater example of this than the Prodigal Son. Filled with remorse and regret for his sins and crushed by failure, this wayward son decided to return to his father's house and become a slave. Scripture tells us the father ran to him, threw his arms around him, and placed a ring on his finger, a robe about his shoulders and sandals on his feet.
Fr. John Clote, a journalist-turned-priest who produced "The Miracle Box," a new film about confession, says the bestowing of those three items has deep significance.
"The signet ring was a sign of authority and inheritance. When you have the signet ring, you have full control, full ownership of what was given to you," Fr. Clote said. "So when the father did that, he was restoring to the son everything that was his, even though the son treated his father like garbage and said, 'I'll take what's mine.'"
The robe signifies dignity and restoration. And only slaves went barefoot, so by giving his son the sandals, the father was saying, "You are not a servant — you're my son." It was a moment of great rejoicing.
Confession, The Miracle Box reminds us, is the door to God's mercy and grace. It's the way to forgiveness, healing, restoration and freedom.
And that should fill us with joy.
Years ago, before I'd had a personal encounter with Christ, someone gave me a bookmark with a Bible quote that proclaimed, "The joy of the Lord must be your strength ( Nehemiah 8:10)." I had no idea what that meant. How could joy be our strength? Wasn't joy something like that feeling you get on the last day of the school year?
Uh, no.
We live in an era that places a lot of emphasis on feelings (as The Soulful Catholic, I can certainly attest to that). But our mind has to be in charge of those feelings. So while we might feel as though we haven't been forgiven, we can know that, after a good confession, we ARE forgiven. God rejoices over us and delights in us and throws His arms around us.
It's a joyful thing.
Notice I didn't say "happy." Happiness is one of those emotions that can change with the wind. It's pizza night, so we're happy. We're stuck in traffic, so we're unhappy. We're going on vacation, so we're happy. And so on.
Joy doesn't depend on our circumstances. The joy of the Lord is deep in the soul and comes from the sure knowledge that Jesus Christ has conquered sin and death. Jesus Christ has forgiven us. Jesus Christ will come again in glory!
The joy of knowing that and believing that is what carries us through the valleys and the dark times and through disappointment and tragic moments. Joy helps us leave the past in the past and move forward with hope. It's how we remain joyful even when our circumstances aren't a source of happiness. It's the voice that drowns out the enemy's lies and reminds us we are precious sons and daughters of the King of Kings and Lord of lords, the Lamb of God who takes away the sins of the world.
St .Paul tells us, "Rejoice in the Lord always. I shall say it again: rejoice!"
Let us rejoice in the Lord and draw strength from the sure knowledge that His mercy endures forever.