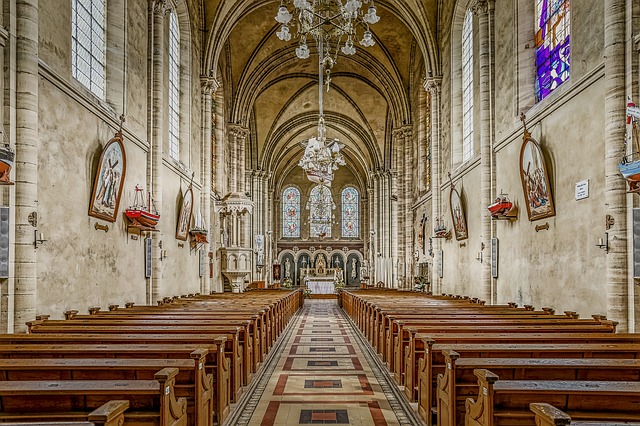 The high-pitched ring tone echoed in my ear as I lay on the bed, listening, hoping, praying he would answer.
It was December 1984, and I was a lovesick college student, barely out of my teens, trying to connect with the man who had stolen my heart. How could I bear to live without him? What if he stayed in his Venezuelan homeland and didn't return to the U.S. after the Christmas break? Was there a future for us? Could we make it work despite the fact we were from two very different worlds?
The answer, thankfully, was a resounding yes. We graduated from college together a few months later and got engaged that summer.
Our next step was to meet with Fr. Albert Felice Pace, O.P., director of the All Saints Catholic Newman Center at the time. "When would you like to get married?" he asked us.
My beloved and I turned to each other. "As soon as possible," we told the priest. We couldn't wait to be together forever.
And that right there is the kind of love God longs to share with every human person. It's a love that is willing to suffer and sacrifice, to sweat and shiver for love of us, in spite of all our sins and failures and betrayals. It's a love that always welcomes you home and sees the good in you when no one else does. It's a love that forgives you even when you can't forgive yourself.
The Soulful Catholic was pondering this mystery of God's often unrequited love for mankind when she received a call from a relative back East. This particular cousin — I'll call her Beth — hails from one of America's great cities, a community steeped in centuries of Catholicism and shaped by generations of faithful who built magnificent churches and schools.
Beth still lives in her childhood home and belongs to the neighborhood parish she's attended her entire life. Attendance there at Sunday Mass is way down, especially since the pandemic and all the COVID restrictions. Not only that, there's an ongoing construction project in the area that's made parking nearly impossible.
Parking is difficult? People would rather stay home and livestream the Mass?
The problem with us here in America is that we've become spoiled. We like our religion comfortable and convenient. The minute there's hardship involved, we tend to scatter.
This is not indicative of the kind of love that seizes your heart and won't let go, the kind of love that won't let you rest until you possess your beloved. Where is that longing for Jesus Christ's Body, Blood, Soul and Divinity in the Eucharist? Where is that faith of the martyrs that built our Church?
I stood before the students in my First Communion class recently, telling them about the night Jesus Christ was born in a stable, into the midst of hardship and suffering and that He endured all this for love of us.
"God didn't bring us into this world so that we could have an easy life," I told them, a line straight from their catechism book. These children, almost entirely born of immigrant parents who fled persecution in their native Iraq, stared back at me. They've known hardship, many of them. They know many of the priests and faithful from their parents' villages were martyred for their faith in Christ. Even after all of that, it's still a temptation to want to take the easy way, to fall onto the path of least resistance.
But back to the plight of dying Catholic parishes.
An analysis by the ABC data group revealed that churches in the northeastern U.S. have suffered the largest drop in church attendance with 27 percent fewer people attending in-person services in October of this year compared with January 2020 when the pandemic hit.
My cousin Beth worries that her parish may close down entirely, that she'll eventually have to move to a neighboring parish which has managed to weather the pandemic better. Will the historic church she has attended all her life close its doors for good?
Perhaps. But not necessarily.
An email from the pastor won't save the parish. A video message from the bishop won't save the parish. A cleverly worded mass mailing won't bring people back either.
In-person visits from parishioners on fire with the love of God could.
"What you need is a group of about 20 parishioners armed with church bulletins who are willing to go door to door in the neighborhood," I told Beth. The Parish Visitors of Mary Immaculate have been doing this for decades, revitalizing parishes, including right here in the Diocese of Phoenix.
About 15 years ago, I attended one of their training sessions and accompanied them on their journey through a Mesa neighborhood. The Sisters and those they train knock on doors and ask if they can pray with people, giving them a church bulletin and inviting them to attend events at the parish. They build relationships with people and follow up with further visits.
To do this, the parish needs people who are in love with God, who can't stand to be apart from Him, who are lovesick for Him and yearn for His Real Presence. You just can't get that through a computer screen. In fact, you might have to fight for it. You might have to struggle and sacrifice. You might be uncomfortable, but you'll be in good company as you seek out your Beloved along the rocky, steep path Jesus pointed out to His followers 2,000 years ago.
In the end, it's love that will save us all. Not the sentimental kind, but the kind that is willing to sacrifice and endure, to "enter through the narrow gate (Matt. 7:13)."
And in the end, love is all that matters.